Prevent Sun Damage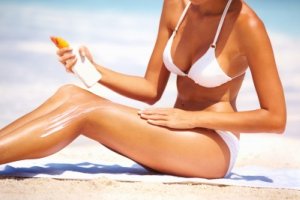 Enjoying the sun is something we all desire. But to prevent sun damage we should be aware of the need for responsible sun protection. Not only when we go on holidays, but every day.
Reasonable sun bathing are in fact healthy as it stimulates the production of
vitamin D which is very important for our bones. But too much sun can be harmful. Sun damages like premature skin aging, pigmentation, allergies or even worse skin cancer can be the results of careless sun handling.
The skin's self protection differentiates itself from each one of us.Therefore it is very important to pay attention on how long you can stay in the sun without getting sunburns.
Especially children's skin is very sensitive to UV radiation because they do not have enough pigmentation and a very low light callus. Therefore a healthy and high quality sunscreen should be used. For children every sunburn is a dangerous and serious sun damage.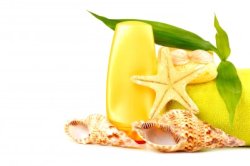 But what makes a good and healthy Sun product ?
Beeing exposed to UV radiation causes the skin to get dry and brittle. That's why it is so important to make the right choice of your sun products which have a protective and caring effect on your skin.
Very often high concentrations of mineral oils are used in sun cosmetics which can plug your pores and don't have any caring or nourishing properties. Some even containing perfume, leading to allergies and pigmentation.


A good Sun cream or Lotion should protect and care at the same time


Bionome products containing valuable oils, moisturisers and a high concentration of vitamin E are the best. This vitamin is a very special and important skin protection against free radicals, premature aging and age spots. Sun damages like these are unaesthetic side effects that no one wants to have.
In fact a combination of vitamin A and E will regenerate, protect and refine your skin.


Protection without chemical Sunfilters


Chemical sunfilters are mostly used in suncare products. Actually they should protect your skin from UV radiation but in fact they are not UV resistant. And they are suspected to be hormonally active. That's why they are considerd as questionable.


To prevent sundamage it's best you choose a skin protection containing mineral sunfilters. Titanium dioxides and zinc oxides are microfine minerals beeing in great demand as efficient UV light filters since many years. When applied,these minerals do not migrate into the skin but stay at the skins surface and therefore offer a high degree of sun protection.


People who tend to get Mallorca Akne are better adviced using an oil and emulsifier free sun gel. It should also be free from preservatives and contain a high level of vitamin E. Another good tip is to take Beta-Carotene ( Antioxydants) a few weeks before your summer holidays. This way your body will build up a good self protection against harmful UV radiation.
ENJOY THE SUNSHINE


The Sunburn Magazine provides a list of good sunburn prevention tips.


Return from sun damage to homepage