Healthy Skin Is Not A Coincidence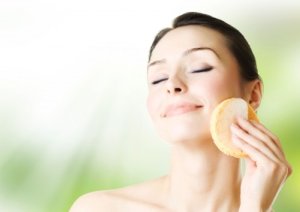 Beautiful Healthy Skin Requires Regular Cleansing


Healthy skin don't have to be a dream. The secret and simple step to achieve this is called cleansing. This really is important because you should always keep in mind that your skin is exposed to different kinds of invironmental influences every day like coldness, heat, dust, cigarette smoke and exhaust fumes. All this will eventually cause irritations, plug your pores and prevent that precious ingredients of cosmetics penetrate in your skin.


The best cleansing products for a healthy skin care are mild cleansing milks or gels enriched with hyaluronic acid because this substance will moisturise and soften your skin while cleaning. And by no means it would dry out your skin like soaps does.


Of course they should also be free of perfume, preservatives, mineral oil and artificial colourings. Please avoid using soaps as they are alkaline and destroy the ph-number of your skin permanently. And just washing your face with water alone is really not enough.

I always get goose bumps when someone tells me this. It's like washing your dishes. You won't get them clean without a cleansing product, and if you only use water the dishes stay greasy. It's the same for your skin.


But unfortunately some people still tend to neglect the importance of it and don't pay much attention on this very important part of healthy skin care. But I highly recommend it because this is the basis of effective beauty care. The best beauty products will not unfold their anti aging effect if your skin is not prepared by a thorough cleansing.


Regardless of how late it is or how tired you are, please take your time to do this


So why not start today ? Enjoy a younger look with a healthy Skin


For a perfect finish of your facial cleansing a tonic lotion is also essential.

Tonic lotions gently remove possible residues of lime resulting from the use of water and also residues of make up. And it clarifies and refreshes as well. Therefore they optimise your daily care and are also perfectly suitable for a quick cleansing in between especially if you have oily skin.

Lotions containing tea tree oil can be helpful if you have this type of skin because of its antibacterial effects. In addition they should be free of alcohol to avoid the skin from drying out and the risk of irritations. Always apply tonics gently on your face with a cotton pad without rubbing too much.


The cleansing only takes a few minutes and the results will be so positive because now your skin is perfectly prepared to absorb all the good substances of the following beauty products you will apply.


You are on the way to a beautiful complexion.

Return to anti aging beauty guide