Natural Acne Treatment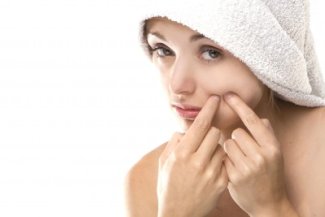 What Has Natural Acne Treatment To Do With Anti Aging


Well, this too plays a very important role in skin care. Many people suffer from this skin desease regardless of all ages. And this means not only emotional strain but also stress for your skin. This skintype needs a lot of attention and patience in order to achieve a normal complexion again. In the case of wrong acne treatment the condition of the skin can get worse and scarring may occur.


Responsible for acne is an exceedingly high sebaceous production, often combined with a cornification disorder that causes the sebaceous glands to constipate and the so-called resulting blackheads.
How do blackheads develop

Therefore it is extremly important to carry out a deep cleansing at regular intervals to prevent inflammations caused by bacteria because the longer this comedones remain in your skin, the higher the propability. Please don't try to remove this impurities by yourself through squeezing, the risk of injury and scarring is to high. Better, a regular visit at your beautician !


Some of my customers having acne proplems come to me on a regular basis. It's always a challenge to me because it takes a lot of time and sensitivity to clean out all impurities and to soothe the skin again. My bionome anti acne products help me to reach the goal of an healthy and clear complexion, because the natural balance of the skin gets alleviated and becomes visibily relaxed and smooth.


But also healthy nutrition is an important component to improve this skin type.


During this very intensive natural acne treatment I like to use highly concentrated active agents so that inflammation can fade away faster and the skin is in a position to regenerate again.
Chamomile is one of my favorites because this herb has an anti-inflammatory and very calming effect. I also use this herb when I vaporize the skin before cleaning.
Propolis extract is another antimicrobial agent. It contains amino acids, vitamins,trace elements,enzymes and it's very suitable to fight pimples and comedones.


For a very effective and simple natural acne treatment at home I like to give you this Beauty Recipe
Take about 6-7 Teaspoons of Healing Earth
Admixture with some warm chamomile tea or water, not to much! the mixture should be thick
Apply this mask on your face and leave it for about 20 to 30 minutes
Rinse off with warm water
You can use this special mask 2-3 times a week, later when your skin gets better 1 time a week will be enough.
For a peeling effect you can also slightly rub off this mask before rinsing.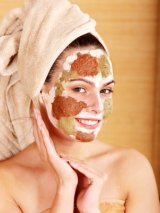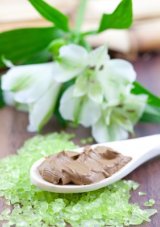 Healing earth contains numerous trace elements and minerals. It's one of the oldest natural treatment and helps with various types of problematic skin, is blood-purifying, stimulates metabolism and is anti-inflammatory.


Combined with bionome products for your daily skincare, this will help you to achieve a clear complexion again. But always remember...Acne treatment takes time !



Here you find more naturally based acne solutions !

Return from natural acne treatment to homepage