Wrinkle Cream and Liposomes
Perfect Combination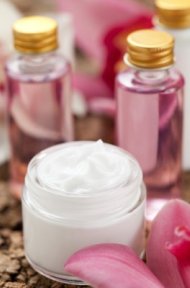 Ladys, an anti wrinkle cream is a must. But what makes a good anti aging cream ?
Let's stay honest and realistic. Our skin aging depends on genetic factors. But we can do a lot to slow down this process. Eating healthy food, getting enough sleep, doing sports, avoiding stress, not smoking cigarettes to name just a few. In my daily tasks as a cosmetician I'm dealing with this issue very often. And you know by now that I love to work withorganic skin care. And...here comes my secret ...Liposomes !
They are definetely the best active agents for a good and effective cream.Scientific research has shown that applying liposomes will increase the hydration of your skin.And a thoroughly moisturised skin tends to get less lines.
Another fantastic cosmetic benefit of this substance is their carrier system. Meaning...
Naturally powerful liposomes deliver effective botanical ingredients into the deeper layers of your skin, hinder harmful oxidation processes and stimulate the cells' natural energy production. Phospholipids, nanosome and vitamins penetrate deeply and leaves you with a young, fresh complexion with regained tension and elasticity. Continue from best wrinkle cream and read more about good wrinkle treatment
There is no doubt. Cosmetic products containing this active substance are the best for your skin. I've made very good experiences using liposomes during my beauty treatments. No matter what your skin type, the results are very positive.
To improve the elasticity and moisture content of your skin, I always recommend to use a pure liposome concentrate before applying the actual facecream. This way you will get the Double Beauty Effect !
Please make sure that the products you choose are free of preservatives, perfume and artificial colourings.These ingredients do not belong in a good wrinkle cream. Keep in mind the carrier system... liposomes penetrate active substances deep into your skin.
Regular use will reduce lines and wrinkles and actively inhibit their development. And that's exactly what we want to achieve, right ?

Return to anti aging beauty guide