Body Lotion Keeps You In Motion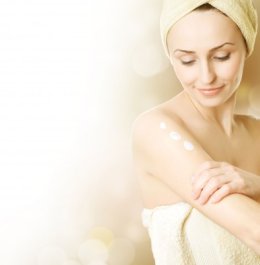 Body lotions simply belong in every good skin care. Can you imagine beeing without one ? I need to cream my skin regularly, not only because I'm swimming a lot but also because I love to cream. And I believe my son is the Master of Body creaming:-)) If at any time this precious skin care product is not available in my household his usually smiling face will flush. Yes, what is good for women is good for man too.


Finding the right one depends on your age and knowing which skin type you have. Young skin has different needs than mature skin and therefore it is important to choose a suitable product for your daily care. Body lotions are mainly oil-in-water emulsions of light texture and penetrate easily into the skin. Enriched with nourishing and moisturizing ingredients this is a very good and truly necessary part of anti aging skin care. Young skin is naturally tight and rich of moisture and don't actually need too much of nourishing ingredients in a product. That is changing when we get older.


With advancing age our skin loses its firmness and elasticity and becomes more demanding. Yes, you guessed it..it's time for extra rich care. This fact truly calls out for a magical body lotion to let us stay crispy :-)) And crispy we will stay if we keep our eyes open for anti aging vitamins and healthy ingredients in cosmetics. Lotions with liposomes and vitamin E are very good because of its moisturizing and anti wrinkle effect. Sad but true...Yes, our sexy body can get wrinkles too if we neglect him. Sheabutter and avocado oil are also additional advantages of a good and effective emulsion.


Sometimes our skin needs more than just a one time cream session a day. In the cold winter month, even when we protect our body with warm clothing, our skin often feels dry and brittle. Rich emulsions gently and thoroughly massaged will make you feel like Miss Universe leaving your skin soft and shiny. In Summertime light emulsions with aloe vera helps to calm sunburn and provide her with moisture.

For delicate areas like the decollete you can find special emulsions on the market. Usually they are enriched with powerful vitamins and hyaluronic acid to prevent premature wrinkling. Keep your decollete in mind, I'm sure the next little black dress is waiting for its performance :-))


If you read some of my other pages you know by now that I'm a lover of natural cosmetics. And I always pay attention to ingredients in skin care products. I like to point out the importance of this here once more. Many substances in cosmetics can cause allergic reactions, it doesn't matter if it's a face cream, shower gel, make up or body lotion. And some of these substances can lead to premature skin aging.

Take your time when you choose a body lotion, read carefully through the Table of Contents, write down some terms on a piece of paper and compare them with the informations. Always remember, you want to stay on the safe side and enjoy a healthy and young looking skin.

Discover coconut oil for your beauty and health

Body language tips

Return from body lotion to homepage