Pimples Treatment

Do It Right





Pimples are the nightmare vision of almost every woman and man. At least for me I can honestly say so. I mean, isn't it so that a huge spot always appears when we are looking forward to meet friends at the weekend, going to a party or to the movies ?


During the whole week or month not one tiny spot will show up, but then just on time when we are ready to hit the freeway, BAM Mr. Spot appears. And we go like, NO not now, please disappear, don't spoil my evening, come back later if you like, maybe next week when I'm working, but not toniiiiiight !


Do I have to say it ? Yes Mr. Spot will stay right there on your face, shining like a flashlight in the night. And as if that weren't bad enough, some start to battle Mr. Pimple by squeezing. And right here I'm getting serious, because this is exactly what you should prevent doing.


Impurities are mostly caused by an oily skin type. Because of the increased amount of lipids in the skin due to overactive sebaceous glands the pores get clogged and if acne bacteria come along blackheads and spots will develop. This happens often in puperty when the skin becomes thicker and produces more sebum.

But even adults facing this proplem very often. Important is that you treat your face with products that will normalize the oil content of your skin without destroying the natural ph-value. This means the ph-value of 5,5 of the skin's natural acid layer.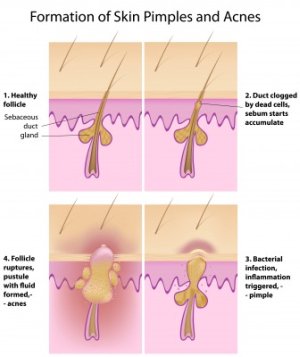 The regular home care is an extremly important aspect of skin care to achieve good results. Without the right attitude and patience the condition of this stressed skin type can even get worse. And inappropriate treatment will finally lead to scars.


So Here Are My Tips For You


An inflamed pimple can be very painful especially when it's pus-filled.


1. Clean your face. Using washlotion or cleansing milk according to your skin type.

2. Apply some skin disinfectant with a cotton pad to the area to be treated.

3. Then slightly prick into the spot using a lancet needle. Available in the pharmacy.

4. Wrap a Kleenex around your fingers and carefully squeeze out the pimple.

By no means do this with your fingernails as you might injure the skin which will lead to scarring.The risk of bringing in bacteria and dirt into the affected area is also very high.

5. Then disinfect again.

6. Apply a concealer containing healing and disinfecting properties.


Adstringent masks and tea tree oil also have soothing and healing effects.

Just like cold camomile tea, which can also be applied with cotton pads to reduce inflammations. Always pay attention to a clean and hygienic procedure and visit your beautician at regular intervals.


Back to natural acne treatment
Return from pimples treatment to anti aging beauty guide