Look younger and feel Great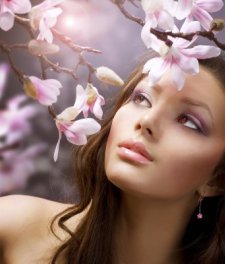 To look younger and feel beautiful for a long time is something everybody desires. It's comprehensible that we want to stay good looking, but to achieve this we have to take good care of ourselfs. Certainly a positive lifestyle like, getting enough sleep, healthy nutrition, regular exercise, no cigarettes and not too much alcohol will help us to stay young and vital for many years to come. But also our daily skin care is a very important aspect we should keep in mind.


Unfortunately right here common mistakes are made very often. It is a misconception to believe that regular skin care is needless and no matter what the skin will age anyhow. And Grandmother never used facecreams and still looked great even when she got older.

I'm sure you probably heard this arguments before. Fact is that our environment has changed and we are exposed to all its negative side effects every day. Life has become more stressful and the skin as our biggest organ reacts very sensitive to external influences. But also on unsuitable skin care.


But What Is Unsuitable Skin Care ?


It's the way you treat your skin and which skin care products you choose. Looking younger has a great deal to do with that. Especially when it comes to effective anti aging. Many consumers often use wrong products and wonder why the results are so poor.

I've met so many people during the past years who told me how many different kinds of creams and lotions they bought and how much money it cost them. But the result was that the bathroom was packed with bottles and cream jars, some got allergys and others began to use Babycream because they just couldn't seem to find the right skincare.

Important is that all substances are compatible according to the specific needs of your skin. That is why it is so essentiel to know your skin type. If you are unsure about this I highly recommend you to make a skin analysis at your beauty specialist. She will then customize the right skin care products for you and give valuable tips and advises how to use them for your daily care.

The magical word DAILY CARE. Most customers still underestimate the positive effect of regular skin care. Especially if you have highly compatible cosmetics with effective anti aging substances, visible results will soon reward your efforts.


It really don't take much time to take care of yourself using cosmetics. Beginning with the indispensable skin cleansing and the appliance of moisturising and nourishing creams or lotions you are well prepared to look young and vital for years to come. The skin never forgets and healthy compatible products are the best to keep yourself good looking without any negative side effects.


Back to healthy skin

Return from look younger to homepage