Shea Butter




Shea butter has its origin in Africa and is obtained from the crushed, oil-rich nut kernels of the sheanut tree, also called (Butyrospermum parkii). It has a slightly yellowish color and is also called The King of Trees.The nut kernels contain high quality vitamin E, beta-carotine and allantoin, which makes it a highlight in skin care when its oil is finally turned into butter. In african countrys people often use it for cooking but it also has great skin care benefits.


In cosmetics you can find this botanical ingredient as a basis for a variety of creams, lotions and hair care. It helps to moisturize dry, flaky skin which makes it very suitable for neurodermatitis and psoriasis patients. Because of its vitamin E content, it also positively improves the appearance of aging skin. Fine lines and small wrinkles are smoothed, the cell renewal is stimulated, resulting in a much firmer and radiant looking complexion.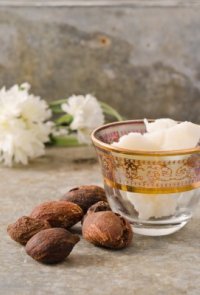 Sun lovers are well protected if you're looking for a sun blocker, because this natural product is able to absorb ultraviolet radiation. And it makes a great massage cream if you add some jojoba or almond oil. Your skin becomes soft like a baby :-) Because it is a pure natural product you don't have to worry about the risk of allergic reactions, which makes it very suitable for daily skin and body care.


It helps to make dry, brittle hands and even chapped fingertips become soft and smooth again. You can also use it for your footcare to treat rough heals and horny skin. Shea butter contains vitamin F which is a very effective substance with healing properties. Simply massage a little amount into your hands and feet morning and night. You will soon see a positive improvement of your skins condition.


Beautiful hair can be yours too, because it nourishes and moisturizes dry, brittle hair. Simply massage a small amount into your hair and scalf, leave it in for a few minutes and then wash it out with a mild shampoo. You can do this every day until the condition of your hair gets better, or use it once or twice a week to give your hair this little extra beauty treat. It also helps to reduce the formation of dandruff.


Most women tend to get red, irritated skin after shaving their legs or armpits. Applying some shea butter after the procedure will help to reduce and calm irritations. But also man's skin is often very stressed by shaving procedures, so this treatment is perfect for you too, if you have problems finding a good and natural product.


When you buy shea butter it should be 100% unrefined. Which means this is a pure natural product without chemicals. Read the INCI label carefully to make sure you purchase a high quality product. Always remember, you want to use it for your skin and health.

Some are mixed with artificial colorings and perfume, which has nothing to do with a so called natural product. Even though they might be less expensive, avoid it. Your money is better spend on a pure product with all its great skin and health benefits. So off you go...and get that butter :-)


Back to anti aging skin care

Return from shea butter to homepage