Healthy Snacks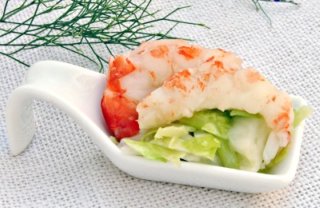 Healthy Snacks are always a good solution for the ravenous appetite in between our meals. I'm sure you know this type of feeling when your stomach is growling and in your mind one huge, juicy burger with some fatty french fries let's your mouth water. And you're thinking, heck I just had lunch a while ago, so what's going on ? You're not really feeling hungry, it's just this delicious thought of taking a bite into this yummy meatball, heck with the calories and colesterol :-) But wait...wouldn't it be much better to choose a lighter variation to get through the day ?


Don't panic, to eat consciously we don't have to act like Bugs Bunny demanding his carrots. And we don't have to nibble on a dry piece of crisp bread either. It's simple, good noses up and there you go attacking fruits and veggies. Just look and see what your fridge has to offer, hope it's not a giant cream cake :-)) Otherwise a walk to the marketplace would be just right to get the healthy foodstuff you need to stay sweet.


Smoothies are a delicious and easy way to provide yourself with vitamins and stop the hungry feelings. They are made of a variety of fresh fruits, 100% natural, and are available in various flavors. If you have a juicer at home you can make them yourself enjoying all the healthy benefits. Yummy Yummy !


Cereals provide you with vitamins and easily digestible carbohydrates. Granola or cornflakes mixed with fruits are light, healthy snacks you can eat during the day as well as for breakfast in the morning. I personally like to eat cornflakes with soya milk, tastes really good and provides me with soybean protein.


Soya Products are a tasty alternative in case of lactose intolerance by adults and children. Soya Yoghurt mixed with strawberrys, bananas and blueberrys are perfect for a little afternoon break. It's a light food and won't strain your stomach.


Pineapple is the queen of fruits. Pineapples purify the body and have a filling effect. You can eat them just as it is or mix a few pieces with your favorite yoghurt. They contain enzymes and antioxidants like vitamin A and E and are able to dissolve body fats. Perfect for diets !


Tomatoe Salat with slices of onion and a light herb dressing is a healthy snack you can eat any time of the day. Try it with some pieces of avocado and tuna fish, but make sure the avocado is ripe otherwise it won't taste good. I love this snack, tomatoes, red onion, avocado and tuna fish mixed with a herb dressing...my favorite, my tasty tooth :-)


Cucumbers are perfect for salats too but also on crisp bread or wholemeal bread. A few slices of cucumber, tomatoes and boiled eggs on a piece of bread, add some salt, pepper and a little cress. Close your eyes, take a bite and taste the delight...You'll want more !


Bananas contain minerals, sugar, fibres and starch. This fruit is very nourishing and a ideal snack during the day whenever you like. Bananas are rich in magnesium, vitamin B6, vitamin C, folic acid, and are a great energy provider.


Cottage Cheese is also a very healthy snack. This food contains protein and tastes good with tomatoes and some crisp bread or low fat crackers. Because of the protein your little hunger attack will be over very quick as it is very filling and nourishing.


Nuts may have a high caloric content but are very nutritious and healthy. With omega-3 fatty acids, plant fibers, unsatturated fats, vitamin E and L-arginine they truly belong in every healthy cuisine. A few nuts a day and in between meals are good for you and you don't have to worry to gain weight unless you eat tons of them. So don't worry, be happy :-)


Peppers red, green or yellow are a delicious healthy snack. Just cut them in slices and serve with your favorite quark dip. Peppers are low calorie vegetables filled with vitamin C, magnesium, calcium and carotene. Mixed with green salad, low fat feta cheese and some sweet corn it's a delicate snack for young and old.


Healthy food is important regardless of all ages !
If you have kids, here is a site about smart snacking and more.


And for more Super Food Tips visit this great site

Natures-Health-Foods. Natures Super Foods, Super Recipes & Super Food Remedies. Living Longer & Living Younger.



Back to fitness tips

Return from healthy snacks to Homepage