Healthy Food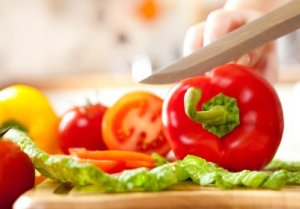 Healthy food is important no matter how young or old you are. With a well balanced and varied nutrition you lay the basis for a vital, healthy and long life. And fortunately we find so much great and delicious foodstuff on the market to help us to achieve this. Important is the right combination of fat, sugar, protein and carbohydrates to keep our body fit.


Everyone of us has different eating habits. Some prefer much meat, others like fish, some live vegetarian and some eat almost anything. But no matter what your preferences are, the right choice of your nourishments plays an important part of healthy anti aging. Through this you prevent overweight, high blood pressure, diabetes, constipation and other diseases.


We also need various types of vitamins,minerals,valuable vibres and liquid supply for a good metabolic activity. This is very important for the production of energy and functionality of our body and mind. But unfortunately a hectic and stressful lifestyle leads us sometimes to wrong eating. If this happens occasionally it's not so bad, but in the long term junk food will negatively effect your well beeing. To avoid this it is good to know what kind of food is best for us.


Vegetable and fruits provides us with vital nutrients to keep us fit and powerful. It is recommended to eat 5 servings per day. This way our body is supplied with enough minerals and vitamins as well as secondary plant substances. But also the appearance of our skin will be positively effected.

Vitamin A is essentiel for the formation of new skin cells and Vitamin C promotes the formation of collagen. Carrots for example are rich of provitamin A and therefore very good for your complexion and vision. Strawberrys, blueberrys, currants and cherrys contain much vitamin C and should be on your healthy food list.


Dairy produce like quark, yoghurt, cheese, buttermilk and kefir drinks are very tasty and provides us with calcium and proteines to strenghten the bones and teeth and beautify our skin. Precondition for a young and tight skin is also the consumption of sufficient liquids. Mineral water and fruit spritzers are best because of its purifying effect. 2-3 liters per day are sufficient. Try to avoid sugary drinks because of it's high calorie content.


Fish is a very healthy food and should not be missed in your nutrition plan. Fish contains high amounts of poly unsaturated omega-3 fatty acids, high quality protein, iodine, vitamin B and D and is easily digestible. Make a Fisch Day twice a week.


Meat is a iron source and meat lovers should eat it twice a week. Choose lean meat like chicken, beef or turkey breast. This way you prevent eating too much animal fat which can result in negative health disorders like arteriosclerosis, high cholesterol and blood lipid levels.


Wholemeal products like wholemeal bread, spelt bread, wholemeal rice, wholemeal pasta and oats are also perceived as very healthy food. They contain folic acid, vitamin B and calcium. And they are known for its digestive properties. Reduce the consumption of white flour products because of its empty carbohydrates and sugar content.


Make your own easy homemade yogurt, enjoy all different kind of easy yogurt recipes. Save your money and eat healthy at easy-eomemade-yogurt.com



Back to womens health

Return from healthy food to anti aging beauty guide